Mini-INTACT™ Modular Filler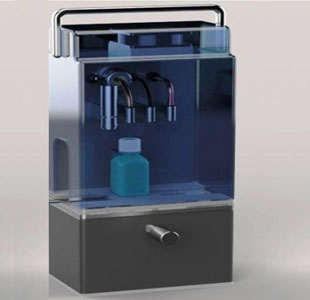 The Mini-IMF is based on the Intact™ Sterile Filling System and the Intact™ Modular Filler (IMF). The Mini-IMF is a smaller, portable version of the IMF, which can be shipped and carried like a suitcase. It is a manually loaded filler, which performs like a table-top IMF.
The Mini-IMF enables localized sterile filling for small lot production, something that couldn't be done until now. The Mini-IMF is another paradigm shift in sterile filling:
before the Mini-

IMF

, aseptic filling could only take place in large, capital intensive, highly controlled, centralized clean rooms.
with the Mini-

IMF

, sterile filling becomes possible anywhere and at a very reasonable cost.
The dissemination of affordable aseptic fillers is perceived by many as a prerequisite for reducing contamination in developed as well as in emerging countries. The challenges of localized sterile filling are the large initial capital investment (clean room and filler), the increasingly complex aseptic procedures, and the availability of trained operators. The Mini-IMF addresses all of these issues by providing an economical, safe and easy sterile filling process.
Whereas the IMF is intended for laboratory, pilot-plant, and full-scale commercial settings in the pharmaceutical, food & beverage, cosmetic, and manufacturing industries, the Mini-IMF is intended for the low-volume filling needs of:
hospitals and pharmacies
pharmaceutical and biotechnology development laboratories
food processing plants
formulation, dermatology and cosmetic development laboratories
research and public health laboratories
military forces for food and medical preparations
emergency & rescue operations areas

FDA

non-audited filling entities
Like the IMF, the Mini-IMF is suitable for filling aqueous as well as viscous liquids, including water, juices, syrups, milk, infant formula, creams, concentrates, gels, suspensions, etc.
The mini-IMF can fill glass or plastic containers of various shapes and sizes with high precision and consistency.
Filling output up to 60 containers/hour.
Advantages of the Mini-
IMF
The Mini-
IMF

has been specifically designed to be:
portable. The Mini-

IMF

weighs less than 53 lb (24 kg) and its volume is less than 2 ft3 (0.06 m3)
compact with a small foot print
easily installed and maintained with minimum change parts
simple. There is no sophisticated aseptic platform as the conveyor is an off-the-shelf conveyor. As a result, the filler is extremely robust with less specific replacement parts.
no rotating parts
compliant. The pure physical barrier prevents contamination, resulting in higher patient/customer safety level, essentially eliminating formulation risks for products and formulations in development and compliance has been engineered thanks to both container design and filling process. Representative of the

FDA

have voiced their support of the Intact™ Filling System by describing it as "the paradigm shift in aseptic filling technologies".
a complete turnkey system for uncontrolled laboratory environments. With a single electrical connection, the Mini-

IMF

is a fully integrated filler without the need of vaporized hydrogen peroxide (

VHP

), air compressor, complex and costly isolators.
with only two moving parts:
the carrier, which runs through the filler on a conveyor (horizontal line)
the needle, which move up and down to pierce the port on the container (vertical line)